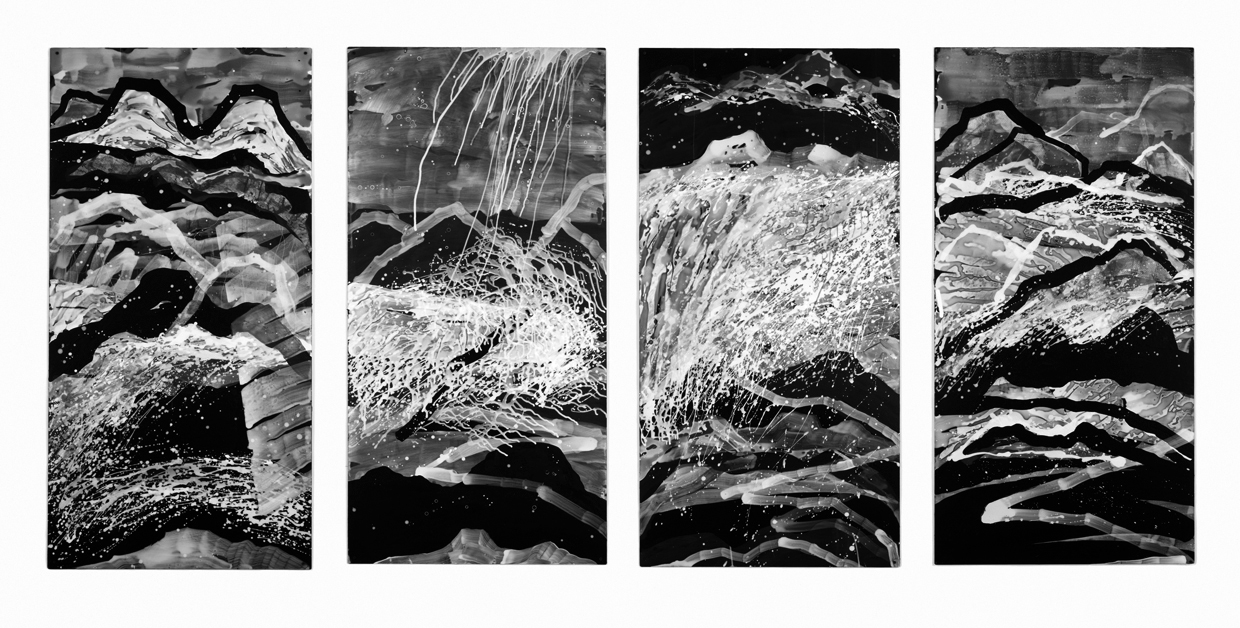 Nancy Manter
Growing up in rural Maine, I have been interested in atmosphere, tides and geological surfaces—both above and below the waterline— and how they relate to extreme weather patterns.
Twelve years ago, I created a series of black and white paperpulp pieces at the Dieu Donne Papermill wearing my x-country skis- a pencil to paper. They were were my first investigation in creating lines in space based on drawings I had made in the actual landscape in snow and in tidal flats .Years later, I made a series of paintings using Distemper (Hide glue and pigment). They were much like the pieces I made at Dieu Donne, only this time I worked with my left hand given a previous injury to my right hand. Most recently, my current drawings, are created with just charcoal, chalk and pencil. The pieces seem to speak to my earlier work, based on similar themes of inclement weather and the organized cacophony found in nature.
My current work was made in Wyoming, where I studied wind circulation and wind charts, plate tectonics, geothermal features, fossils and extreme atmosphere. The spatial and environmental complexities were vast, with evidence of a long history of geologic movement and change found both above and below ground. What was once ocean evolved over eons into an extreme landscape of mountains and basins of often bizarre geological stratas.
Weather is a consistent theme in my work, both in Wyoming and in Maine. I observed dramatic cloud formations and precipitation dependent, in part, on the rugged geological landscape. Both ocean and high prairie lands, seemingly stable and inert, are actually in continuous motion and evolution.
These ever-changing climate events, as well as geological motion parallel the continuous unknowns and upheavals I experience in both my exterior and interior worlds. My art process is one of abstracting both the subtle and the dramatic "dip-slips" and "faults" into black and white marks- shapes that suggest fluidity, as well as the rigid forces that influence the overall atmosphere.
Frtiz Dietel
My work is an evolving exploration of vessels, linear elements and organic forms. Most of my pieces are inspired from observation of botanic and aquatic life — egg casings, shells, seedpods, and hives. I work mainly in wood and handmade paper. Much of my work in wood is fabricated from strips and shards of wood and pigmented epoxy. In constructing sculptures, I borrow many techniques from wooden boat building, including cold bending, steam bending, and epoxy laminations. Handmade abaca paper has become an integral element in my recent works. I begin by building superstructures from wood or foam. This framework becomes the backbone of the sculpture. I sheathe the forms with wet sheets of abaca paper or sprayed pulp, allowing the drying process to become part of the aesthetic. I intentionally have no desire to interfere with the inherent properties of the material, allowing it show off its natural strength and translucency.